Grow Touch Potassium Mobilizing Bio Fertilizer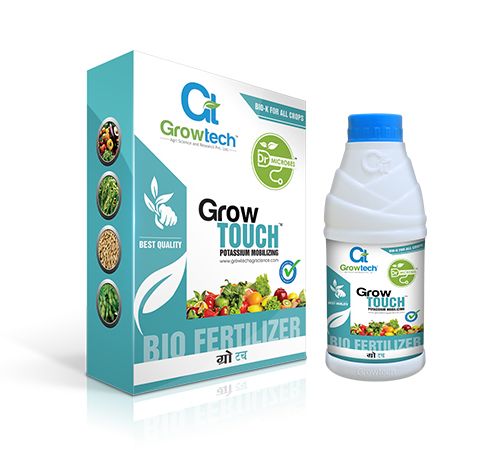 Business Type
Manufacturer, Exporter, Supplier
Application
Agriculture
State
Liquid
Purity
100%
Click to view more
Product Details
Packaging Details
500 ml / 1 Litre in liquid form.
500 gm / 1 kg in powder form.
It mobilizes the potash present in the soil and makes it available to the plant uptake. It is capable of mobilizing Potash in all types of soil and increases the yield up to 20-25% in all seasonal crops.
Benefit
Promotes photosynthesis as well as improves plant growth parameters.
Increases drought tolerance, accelerates the growth of meristmetic tissue.
Catalyzes the activity of some enzymes.
Increases the nitrogen uptake & protein synthesis. 
Reduces chemical fertilizer cost up to 55-60%, 
Produces organic acids, to release plant growth, promotes substances like IAA/Ga. 
Reduces soil borne plant pathogens etc.
Method OF Application
Seed Treatment - Mix 7-10 ml/gm of seed with Arabica gum/Jaggery as per your need and after treatment, dry it under the shade for up to 30 minutes.
Seedling/Setts/Rhizome Dipping - Mix 250ml/gm in 50 litres of water & dip the seedlings for 40  minutes.
Foliar Application - Mix 500 ml/gm of Grow Touch with 200 litres of water and spray it during  the  evening,
Soil treatment - Take 1 L/kg of Grow Touch and mix with 100-150kg well decomposed FYM/Vermi compost/Sand/Soil. Broadcast it over one acre of land at the time of sowing or first   ploughing at moderate moisture level in the field.
Looking for "
Grow Touch Potassium Mobilizing Bio Fertilizer

" ?