Grow Bacter Azotobacter Bio Fertilizer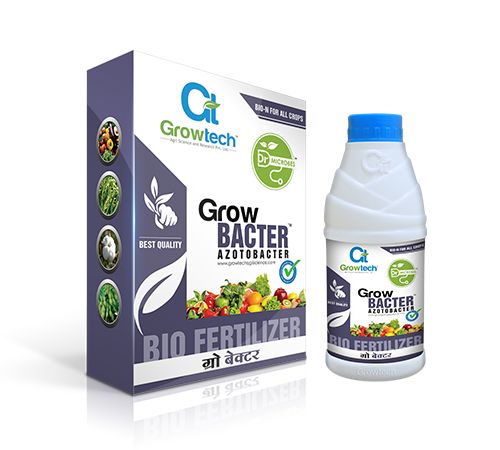 Business Type
Manufacturer, Exporter, Supplier
Application
Agriculture
State
Liquid, Powder
Purity
100%
Click to view more
Product Details
Pack Type
PP Bottle & Box
Packaging Details
500 ml / 1 Litre in liquid form.
500 gm / 1 kg in powder form.
Grow Bacter is a free living nitrogen fixing bacterium. It lives in association with plant roots and fixes atmospheric nitrogen in readily available form to plants. It is a high respiring organism and hence works well in soils having sufficient organic matter. It is also known for synthesis of biologically active growth  promoting substances like hormones and vitamins, etc. and also possesses fungistatic properties.
Benefits
Manages soil borne plant pathogens
 Increases yield up to 30%
 Has the ability to produce plant growth promoting substances.
 To increases vitamin C content in tomato.
 To increases dry matter production
Method Of Application
Seed Treatment -Take 5-7 ml/gm of Grow Bacter formulation and properly mix it  with 1kg of Seeds  and dry under the shade for half an hour before sowing.     
Soil Application - Mix 1 L/kg of Grow Bacter in 100kg of well-decomposed farmyard manure. Once mixed well, broadcast it over one acre of land before last ploughing or first irrigation.
Looking for "
Grow Bacter Azotobacter Bio Fertilizer

" ?