H-8 Humic Acid and Amino Acid Fertilizer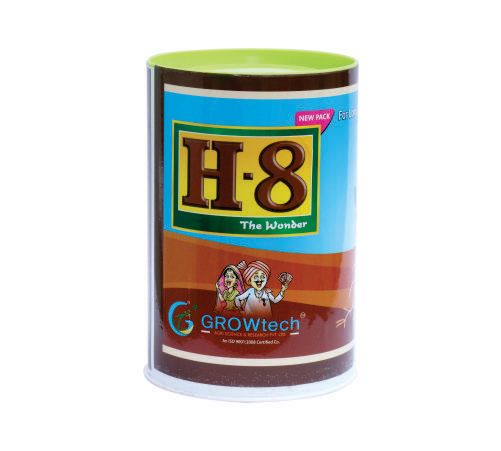 Business Type
Manufacturer, Exporter, Supplier
Brand Name
Growtech
Function
To increase growth of roots and ultimately enhance the plant growth.
Doses
250-500gm per acre for soil application and 10gm per 15 litres of water.
Click to view more
Product Details
Recommended Crops
Any Field Crops/ Horticultural Crops/ Fruit Crops
Application Time
At any time, as a seed treatment, as foliar spray, as drenching.
Compatibility
Compatible with most of the pesticides/ fungicides/PGR
Packing Available
100gm/250gm/500gm/1kg
Features  
H-8 is a humic acid-based effective bio product. It enhances nutrients assimilation and provides multiple benefits to enhance the crop yield. H-8 increases root mass, fruit yield and Bio-mass of the plant. The product assists in transforming macro and micro nutrients from the soil to the plant. It reduces fertilizer doses by 20-25%. H-8 improves soil porosity, enhances aeration and water retention capacity of the soil. It also restores and ensures continuity of bio-cycle and increases soil fertility by increasing micro flora population, accreting organic matter, decomposing and increasing Humus/ carbon content.
Looking for "
H-8 Humic Acid and Amino Acid Fertilizer

" ?